Some would argue that if you've seen one Chromebook, you've seen them all. Since their inception, these devices have developed a reputation as being cheaply made laptops aimed at consumers balancing on a tightrope budget.
Recently, though, there have been some outstanding additions to the Chromebook canon. Luxurious Chrome OS machines like the Google Pixelbook and HP Chromebook 13 have started doing the rounds, with fancy high-resolution screens and surprisingly decent internal specifications.
The 2018 Acer Chromebook 14 isn't quite up to those standards, but it's a well-made, reasonably-priced laptop that should suit your basic working needs. If you can live without Windows or macOS, and you want to save a bit of money in the process, it just might be the ideal device.
Acer Chromebook 14 CB3-431 (2018) review: What you need to know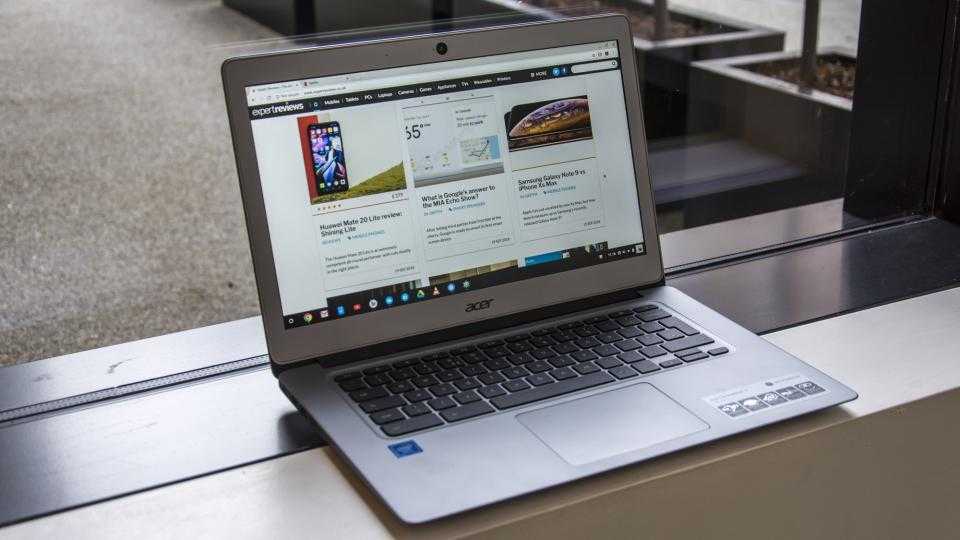 To use its official designation, the Acer Chromebook 14 CB3-431 is the most up-to-date model of a laptop we previously reviewed back in 2016. A few specification upgrades have been made since then, so we thought it might be worth revisiting.
This is a budget 14in laptop with a 1,920 x 1,080 resolution screen, powered by a quad-core Intel Celeron N3160 processor, 4GB RAM and an integrated Intel HD Graphics 400 chip. It has 32GB flash memory (not expandable), an HDR webcam, and runs – as do all Chromebooks – on Google's Chrome OS operating system.
Acer Chromebook 14 CB3-431 (2018) review: Price and competition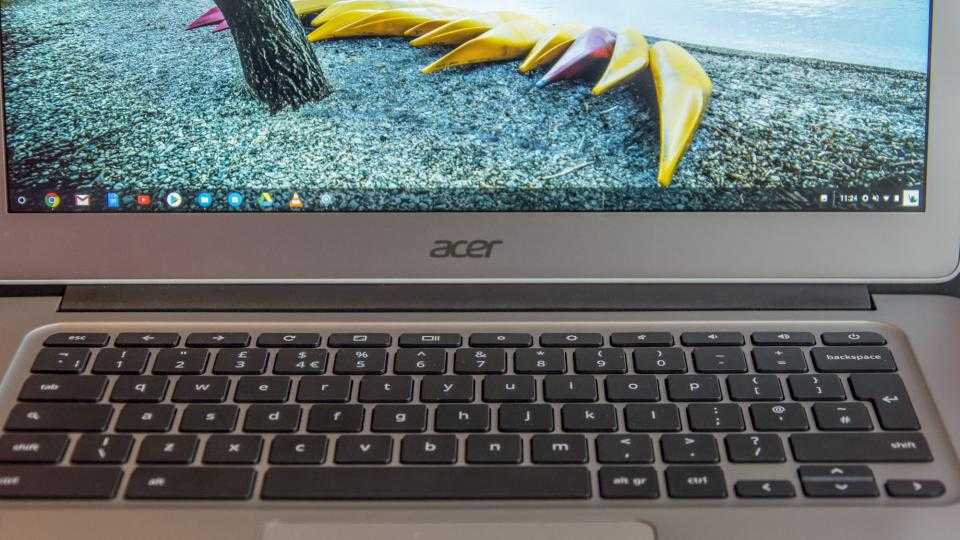 Along with upgraded specifications, Acer has also hiked up the price of its latest Chromebook 14. The 2016 model was a mere £200 at the time of review, but this version will set you back £300.
Acer's dizzying array of Chromebook's can be hard to sift through, but this specific model I am reviewing is the 2018 Acer Chromebook 14 CB3-431 NX.GC2EK.007 . There are other, less expensive Chromebook 14's available from £270, with lower resolution displays and older Intel Celeron processors but for a difference of only £30, you might as well go for the premium option.
What else can you get in this price range? Well, not a whole lot that we can recommend. You could buy a Dell Chromebook 11 2-in-1 for about £280, although in 2018 its small screen and outdated specs are rather underwhelming, despite its 360-degree capabilities. HP's new Chromebook 14 G5 is another alternative, and it has an Intel Celeron 3350 chip and a Full HD touchscreen – also available for £300.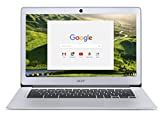 Acer Chromebook 14 CB3-431 (2018) review: Design, keyboard and touchpad
Despite the word 'stunning' being used frequently in the product description, Acer's Chromebook 14 is an ugly-looking thing, just like its predecessor. The silver model I received looks about as dull as a laptop can get; it's got a plain, grey casing, and the interior colour and layout are boring. The size of the bezels doesn't help. If it were mine, the urge to spruce it up by plastering it in stickers would be all-consuming. Luckily, there's a slightly better-looking blue model available .
Aesthetics aren't everything, of course. The chassis is constructed from an aluminium alloy, which feels nice and sturdy, but it weighs exactly the same as its predecessor, tipping the scales at 1.6Kg. The footprint is identical too.
The keyboard and touchpad layout also remain unchanged, with the same spacious layout as Apple's MacBook Air. There's not a whole lot of travel to each key press, and I can't say it's especially satisfying to type on for long review writing sessions, however. The weird-looking lowercase key letters are a further small niggle.
I have no complaints about the touchpad, though. While it's not quite as nice as the one on the 2015 MacBook Pro I use for work, it's still a perfectly smooth experience; it points the mouse where I tell it to, and shortcut commands are easy to execute.
The 2018 Acer Chromebook 14 isn't particularly well equipped when it comes to connectivity; with two USB ports, an HDMI 2.0 connector and Kensington security slot on the left edge. On the right, you'll spot the 3.5mm audio jack and charging port.
The downward-facing dual speaker arrangement is also unremarkable. Despite testing various genres, nothing sounded great, but the slight static produced by the beat of a hip-hop track was the worst of it. Then again, no audiophile will be using a £300 laptop to listen to their favourite tunes.
Acer Chromebook 14 CB3-431 (2018) review: Display
Acer has increased the Chromebook 14's display resolution from 1,366 x 766 up to 1,920 x 1,080. There is a catch though; to view it in native resolution you have to reduce your display size to 80% in settings. The default display has a downscaling effect, reducing the resolution to 1,536 x 864. Fret not – we conducted our display tests at native Full HD resolution.
Despite the resolution upgrade, there are no changes in colour accuracy. The display on the 2016 model could only produce 54% of the sRGB colour gamut, and the new model achieves the same result. Images lack depth and aren't particularly vibrant. Likewise, an average Delta E of 6.32 is very poor indeed.
Acer Chromebook 14 CB3-431 (2018) review: Performance
Because this is a Chrome OS laptop, I was unable to run our usual suite of benchmarking tests. On this occasion, I opened up WebGL's Aquarium benchmark to test the Chromebook 14's graphics capabilities. It handled the lowest setting with ease, successfully reaching the laptop's maximum refresh rate at 60fps. With 5,000 fish on screen, though, the laptop struggled to reach over 9fps.
JetStream, on the other hand, tests the laptop's multitasking speeds. Acer's latest Chrome OS laptop managed to score 40.7, despite the 2016 model achieving 47.7 in the same test. That isn't a wide difference in practical terms, but I would have expected the newer Intel Celeron N3160 chip to just about nudge ahead. For reference, these scores are about three times as slow as the £999 Google Pixelbook, which achieved a JetStream score of 140 – the fastest we've ever seen in a Chromebook.
Lastly, Mozilla's Kraken 1.1 benchmark tested the laptop's audio processing, image filtering and search algorithms – among other real-world applications. The Chromebook 14 completed the task in 5,235ms. To give you an idea of the Intel Celeron N1360's speed, a 7th gen Intel Core i7 achieved a speed of 622ms.
One downside of the higher resolution display is a shorter battery life, but I'd argue that it's an acceptable trade-off. This year's Acer Chromebook 14 ran for 8hrs 6mins in our video playback test, while the 2016 model we reviewed hit 10hrs on the dot. If you're just using the Chromebook 14 for internet browsing and word processing, you should just about be able to squeeze out a full day's work on a single charge.
Acer Chromebook 14 CB3-431 (2018) review: Chrome OS
Chrome OS has evolved into an entirely different beast. It may not be quite as user-friendly as Windows, and it's still a pain to locate specific files and change system settings, but it is now compatible with existing Android apps on the Google Play Store. At least, in theory.
Google's own Pixelbook laptop, for instance, could download apps originally designed for smartphones and tablets. Sure, many Android apps aren't best-suited for a device without a touchscreen, but it would still be nice to access various different tools on the Play Store. Sadly, the only Play Store apps you can download on this device are the ones listed in the screenshot below.
So, why doesn't Acer's Chromebook 14 play ball with most Android apps? The most recent version of Chrome OS was installed on startup, but when I tried to download any other Play Store app, it would only give me the option to install on phones tied to my Google account. There is a setting you have to enable in the Chromebook's own system settings, but this was greyed out. This isn't the only issue, either, I also struggled to transfer specific files over to the laptop's internal storage from an external HDD.
Acer Chromebook 14 CB3-431 (2018) review: Verdict
Despite these Chrome OS problems, Acer's latest Chromebook 14 is a competent enough device for on-the-go web browsing and basic office work – just don't expect it to do much more.
It may have a better resolution display than its predecessor, and a newer processor, but overall battery life has taken a hit, and the screen suffers from colour accuracy issues. Topping things off, you still can't download Android apps from the Play Store, aside from a handful of Google's own applications.
Still, despite its many shortcomings, you really can't find much better for the same price. If you're looking for a device that can, at least semi-competently, perform the most basic of tasks, Acer's Chromebook 14 should do the job. Just make sure to get it in Blue.
| | |
| --- | --- |
| Processor | Intel Celeron N3160 Quad-core 1.60 GHz |
| | |
| --- | --- |
| Dimensions | 341mm x 236mm x 17mm |
| | |
| --- | --- |
| Sound | Speakers, 3.5mm audio jack |
| | |
| --- | --- |
| Screen resolution | 1920 x 1080 |
| | |
| --- | --- |
| Graphics adaptor | Intel HD Graphics 400 |