First, when it comes to waterproofness--the most important criteria for many adventures--we think the XR meets the needs of most outdoors people. The XR is rated to a maximum depth of 1 meter (3.3 feet) for 30 minutes. Unless you're scuba diving with your phone (and we don't recommend it), you probably don't need the extra 1 m (3.3 feet) of underwaterproofness offered by the more expensive iPhone XS and iPhone XS Max.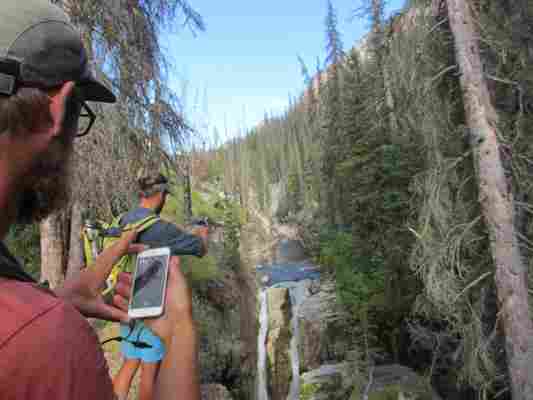 For those backpacking or thru-hiking with your phone, whatever phone you are carrying, we recommend using a fully waterproof zip pocket somewhere on your backpack, either as a shoulder pocket or hipbelt pockets. This allows you to have frequent access to your phone for taking photos or GPS navigation while still having the benefits of waterproofing. Note that many stock shoulder pockets and hipbelt pockets are not fully waterproof or don't have a zip. For more on waterproof backpacking backpacks, see our Best Backpacking Backpack story.
When it comes to durability and drop-proofness, the XR has a lot of advantages over other models. The newest models of iPhones (XR, XS, XS Max) use a new more durable glass. The XS and XS Max have it on both the front and back. The XR only has it on the front, which we actually prefer for outdoor adventures (less glass to crack).
Even still, the independent drop tests we saw for the new Apple glass were impressive. CNET dropped their unprotected iPhone XS (the all-glass model) four times on the sidewalk and it barely got a scratch (whereas the iPhone X broke on the first drop). Zack Nelson dropped two XS's seven times from various heights (one without a case and one with the cheapest case on Amazon) and neither phone broke. Remember how the XS models have glass on both sides? We suspect the XR (which only has glass on one side and metal on the other) will be even more durable.