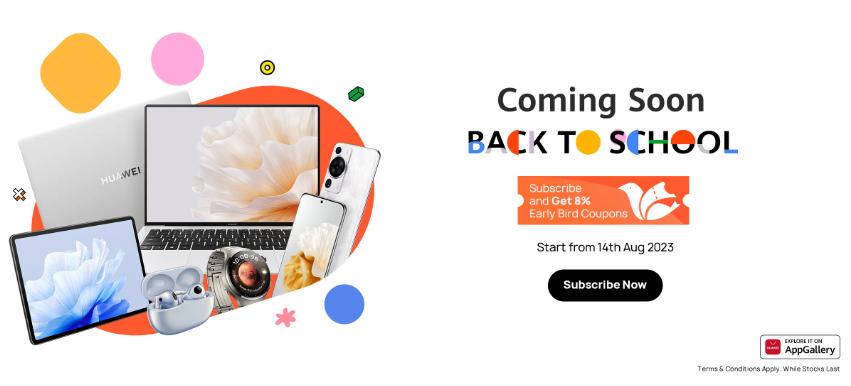 As the back-to-school season approaches, students and professionals seek powerful, versatile gadgets to enhance their productivity and learning experience. Huawei, a renowned name in the tech industry, has brought forward two remarkable tablets, the HUAWEI MatePad Pro 11 and HUAWEI MatePad 11.5 Inch WiFi Only Space Gray. They are designed to redefine the way we use tablets in our daily lives. In addition to these cutting-edge devices, Huawei offers an exciting back-to-school discount, making it the perfect time to get your hands on these exceptional gadgets. Let's dive into the world of Huawei's best tablets and discover what sets them apart.
Huawei Back to School Discount: Unmissable Offer
As the new academic year draws near, Huawei understands the importance of providing students and educators with the tools they need to succeed. This limited-time offer allows you to save big on these already budget-friendly devices, making them even more accessible. Here are the best tablets for you that they are offering:
HUAWEI MatePad Pro 11 - A Marvel of Innovation
The HUAWEI MatePad Pro 11 is a shining example of Huawei's commitment to innovation and design excellence. Its sleek and sophisticated appearance exudes elegance and professionalism, making it ideal for students and professionals alike. The tablet boasts an 11-inch immersive display with vibrant colours and razor-sharp resolution, making reading, watching videos, and creating content an absolute pleasure. It provides WIFI and LTE connectivity.
Under the hood, the MatePad Pro 11 is powered by Huawei's high-performance Kirin processor, which ensures smooth multitasking and seamless app navigation. The device has a generous 128, and 256 GB of storage, providing ample space to store all your files, documents, and media.
With a beautiful OLED display that displays true-to-life detail at every turn, the 11-inch HUAWEI MatePad Pro offers a look into a new world. The 4.2 mm low bezels contribute to the outstanding 92% ultra-high screen-to-body ratio.
The 5.9 mm ultra-slim Huawei's slimmest-ever 11-inch tablet weighs 449 g and is housed in a sturdy rear cover emphasised by the frosting process, producing a fine-grained metallic coating. The finishing touch is gracefully rounded corners, which give off a wonderfully gratifying look and feel.
HUAWEI MatePad 11.5 Inch WiFi Only: The Perfect Companion
For those looking for a more compact yet equally capable device, the HUAWEI MatePad 11.5 Inch is an exceptional choice. Sporting a stunning 11.5-inch display, this tablet offers an immersive visual experience without compromising portability. It's perfect for students who want to carry their tablets effortlessly between classes or professionals.
The MatePad 11.5 Inch is powered by the same Kirin processor as its larger counterpart, ensuring lag-free and responsive performance. With 6GB of RAM and 128GB of storage, you can enjoy smooth multitasking and easily access all your important files and apps.
Conclusion
Here we have told you about two top-notch tablets that cater to the diverse needs of students and professionals alike. With powerful performance, innovative features, and a sleek design, these tablets will elevate your productivity and creativity. The bonus of Huawei coming soon back to school discount makes this the perfect opportunity to upgrade your tech arsenal before the academic year begins.