Samuel L. Jackson has revealed that Nick Fury will appear in multiple Marvel movies after his starring role in Secret Invasion.
Speaking to the Happy Sad Confused podcast (thanks to comingsoonet for the spot), Jackson confirmed that the former SHIELD director will guest star in The Marvels, as well as Ant-Man and the Wasp: Quantumania, in 2023.
Jackson's Fury will return to the Marvel Cinematic Universe in Secret Invasion , one of Marvel Studios' 2022 Disney Plus offerings. But, given that Fury has appeared in numerous Marvel movies , it was only a matter of time before he made his big screen comeback.
The last time we saw Fury, he was enjoying a 'vacation' on a Skrull spaceship in Spider-Man: Far From Home's post-credits scene. Now, though, we know we'll be seeing him appear in three Marvel Phase 4 projects over the next 12 months.
Initially speaking about his time in the MCU, Jackson said: "Well, you know, it's kind of strange when someone tells you they're going to give you a nine-picture deal. You know, you go 'How long am I going to stay alive to make nine pictures?' Because it used to take a while to make a movie. It still kind of does, but people make two or three of them at a time. In the Marvel Universe…it's crazy.
"When I was in London just now, it was [Ant-Man and The Wasp: Quantumania], and [The Marvels] was happening, and we were getting ready to do [Secret Invasion]," Jackson added moments later. "So it was like, three Marvel movies on one lot. I was kind of running around from place to place."
Secret Invasion is one of four MCU TV shows set to land on Disney Plus before the year is out. Moon Knight will lead the way when it arrives on March 30, with Ms Marvel (June 8) and She-Hulk (launch date TBC) set to follow, too.
Analysis: why will Nick Fury appear in Ant-Man 3?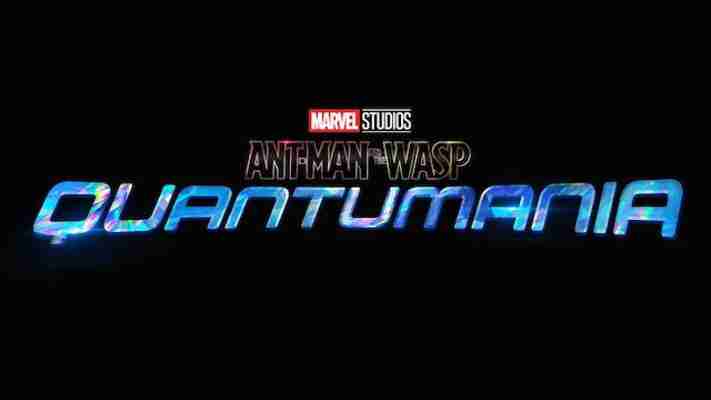 Nick Fury's likely appearance in The Marvels won't come as a big surprise. The founder of The Avengers was a supporting character in 2019's Captain Marvel, which starred Brie Larson as the titular hero. With The Marvels lined up as a sequel to that superhero flick , it would be a strange move if Fury didn't feature in the follow-up movie.
Ant-Man and the Wasp: Quantumania, though, doesn't initially seem like a movie where Fury would fit in. He's never met Ant-Man or the Wasp. He wasn't around for Avengers: Endgame to see how they used time travel to reverse the effects of the Blip either, because Fury was one of those snapped out of existence by Thanos. And, unless The Marvels' plot ties into Ant-Man 3, he may not fully grasp the fact that a time traveling villain – i Kang the Conqueror – is on the way to install himself as the MCU's next big bad. Fury isn't as well connected as he was previously, so he won't have been able to keep abreast of every villainous situation that's come and gone (or set to arrive) on Earth in recent times.
Still, we'd expect a man of Fury's ilk to take more than a passing interest if a new major antagonist turns up and threatens to up-end the status quo. He set The Avengers Initiative up for a reason – i the protect Earth from any and all threats. If Kang presents a clear and present danger to life on our world, you can bet on Fury taking a lead role in Earth's defense against any kind of supervillain.
It's likely that Marvel will be disappointed to hear that Jackson has confirmed his character's involvement in both movies. This is Samuel L. Jackson, though, so he's not likely to care much (if at all) about spoiling where Fury will turn up.
He's not the only one, either. Bill Murray, who will play a role in Ant-Man and the Wasp: Quantumania, has already hinted that he'll play a bad guy in the threequel. Jonathan Majors, who played one of Kang's variants in Loki's season 1 finale , will be on chief villain duties as Kang in Ant-Man 3, though.
For more Marvel-based content, check out w hy Netflix's Marvel shows aren't available in 4K on Disney Plus yet. And read up on Ms Marvel's official release date and trailer , if you missed them earlier this week.
Can't sleep? This little machine will have you snoozing in minutes
If you're struggling to get to sleep at night, there's a tiny machine that just might be the perfect solution. The LectroFan Micro2 is a white noise machine that's just 5cm tall, and weighs as much as an average apple – and it's brilliant.
Right now we're in the middle of Sleep Awareness Week – an annual event organized by the National Sleep Foundation to emphasize the connection between good sleep and better health – and to mark the occasion I've been putting a huge array of sleep tech through its paces, including sleep trackers , sleep earplugs , wake-up lights , and under-pillow speakers .
They can all help you drift off more easily at night (or help you understand why you can't), but for my money, a simple white noise machine is one of the best investments you can make – and this is one of the best.
Your number one fan
LectroFan, as the name suggests, specializes in noise machines that use mechanical fans to generate a nondescript sort of background noise. If you grew up in a hot climate you might be used to having a fan running at night to keep your bedroom cool, but it also has the benefit of providing low ambient sound that helps mask any annoying noises.
There are lots of noise machines and sleep apps that aim to create the same experience with natural sounds like raindrops on a window or whistling wind, but after a while you might be able to spot where these recordings loop around, which can be more distracting than your neighbor's TV. That's not an issue with a fan, since the sound never loops.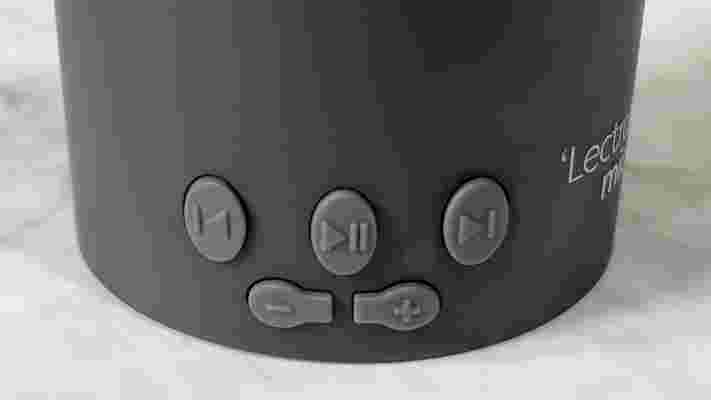 The LectroFan Classic is one of the company's best-known machines, but it's recently branched out into smaller wireless devices that you can toss into your luggage and use while you're travelling if you have a hard time getting to sleep in an unfamiliar hotel room.
The LectroFan Micro2 is one such machine, and it certainly lives up to its name, standing 5cm tall and weighing the same as an average apple. In fact, it's too small to house its own fan (or at least not one that would generate enough sound to be useful), so instead it plays seamless pre-recorded samples of real fan noise. It's very convincing though, and in our tests, I found it impossible to tell when the samples looped. Kudos to LectroFan's sound engineers.
Some of its pre-programmed noises sound like the gentle whirr of a household fan, while others have the dull background drone of something much bigger and more industrial. In fact, I was very impressed just how much sound this little machine is capable of kicking out. You'll probably want to stick to the lower volume settings most of the time, but if you want to recreate the effect of sitting in a turbine hall for some reason (if you grew up in a nuclear power facility, perhaps), you can.
More than meets the eye
The LectroFan Mini2 is cleverly designed as well. The vast majority of white noise machines have buttons on the side and a speaker on top – nothing more – but this little one allows you to twist the top to reposition the speaker for directional audio. It's a cool feat of engineering, and it's not the only trick the Mini2 has up its sleeve, either. Unlike all the other white noise machines I've tested, this little one also moonlights as a Bluetooth speaker .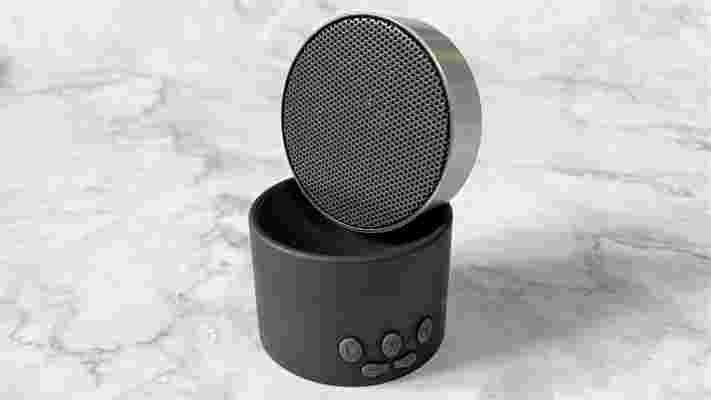 It's not going to give the audio engineers at Bose any sleepless nights, and it's ever so slightly tinny, but it sounds much better than it has any right to, and would be great for making a hotel room feel a little more like home while you're away for a business trip. There's even a very respectable sounding built-in microphone so you can use it for hands-free calls.
It's a shame that there's no timer, so you can't have the fan noise turn off automatically after a certain period of time, and if you want a protective case you'll need to buy one separately, but in all other respects this is a really great little gadget if you find yourself restless at night. It's available worldwide for $34.95 / £34.95 / AU$69.99, so it's also one of the cheaper white noise machines I've used. Give it a a spin – I think you'll be impressed.
This article is part of TechRadar's Sleep Week 2022 (running until Saturday 19 March), a week-long celebration of all things slumber. We'll be bringing you proven techniques and tips to help you sleep better, and have rounded-up all the top-rated tech to transform your sleep.
How I retrieved 10-year-old photos from a classic BlackBerry Torch
Today's cherished technology is tomorrow's useless artifact. Believe me, I know. I have drawers full of aging and defunct gadgets, some of which I once used every single day.
Now they sit, moldering in a plastic drawer, a Creative Labs pocket video camera next to an iPhone 3GS, a first-generation iPad under an old iPod nano.
Sometimes, I slip out a drawer and go back through once-useful technology and marvel at how far we've come – even just myself.
I started using Apple's iPhone in 2011 with the iPhone 4 on Verizon (the first outside the AT&T network). What I left behind was my BlackBerry Torch . It was not my first BlackBerry. I'd been using a BlackBerry Bold 9000 for years and switched up to the slide-away keyboard, touch-screen Torch in 2010. As I was initially testing the iPhone 4, I recall using both devices at the same time.
Eventually, though, I gave up the Torch, consigning it to my own little technology graveyard.
When I pulled the BlackBerry Torch out of a drawer last week, I marveled at its near-perfect condition and, for kicks, decided to charge it up – but first I had to find a micro-USB charger. Thankfully, I keep a drawer of old chargers, as well.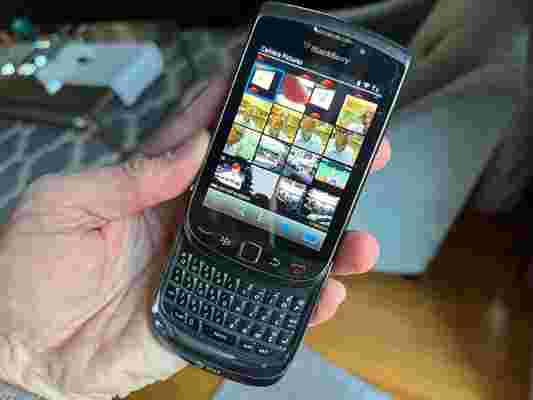 Like a slumberer splashed with ice-cold water, the phone launched quickly and with surprising brightness. It didn't seem stunned, though, more like frozen in time. There before me on the tiny 3.2-inch 360x480 display was the iconic BlackBerry interface – yes, this was still Blackberry OS (6 or 7).
The touch-screen interface was filled with cryogenically stored icons for Twitter, Facebook, and Tumblr. By this phone's count, I still had 37 unread tweets to peruse. To my surprise, the old Twitter app still opened to my feed from July 2012. Broken "Twitpic" links went nowhere, though. Even after I put the phone on my Wi-Fi and composed a new tweet, it went nowhere. This version of Twitter has long been abandoned by the world.
I slid up the screen to examine the classic, physical BlackBerry Keyboard. How did I ever thumb-type on something so small?
The rear, 5 MP camera still worked, prompting me to grab a selfie. It looked decent on the screen, and I thought it might be fun to share it. That's when I noticed there were dozens of decade-old images trapped in my BlackBerry Torch.
Project Photo Reclamation
Since I had the BlackBerry Torch on my Wi-Fi network, I stupidly assumed it would be easy to get my photos off the phone and onto another device like my laptop.
"I'll mail it to myself!"
There was still a semi-functioning web browser on the phone, and I used it to try logging into one of my various online email accounts. Web browser technology has made tremendous progress since 2012, including implementing some serious security measures like Secure Socket Layer (SSL or the "https" you see on every URL). However, a mobile browser from 2012 doesn't know anything about that protocol (Google didn't start preferring HTTPS sites over standard ones until 2014) and now it couldn't load a single secure site because of it, including Gmail and Yahoo mail.
Next, I tried connecting the phone via Bluetooth to my Windows 11 PC. I even installed some old BlackBerry desktop software to try and help the process along. The two systems sort of saw each other but couldn't complete the handshake to connect.
I started to wonder if the only way I'd be able to save these images for perpetuity would be by taking pictures of the BlackBerry screen. I know, a terrible idea.
A Better Way
The thing is, I knew this phone. In fact, I was a bit of a BlackBerry nerd back in the day and I understood this device better than most. That's when I remembered something else: It supported removable storage.
I opened the back of the phone, which revealed a large battery and a slim slot that still held the old AT&T World Data sim card. Just above it, like the top berth in a bunk bed, was an open slot for a microSD card.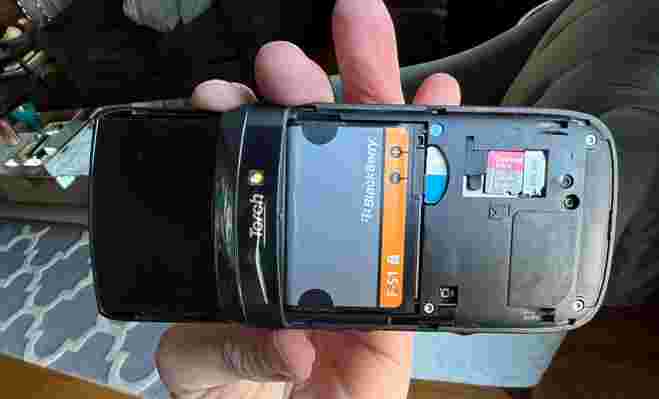 Shuffling through my collection of mostly full cards, I found a 32GB one (the largest capacity the Blackberry Torch could support) and slipped it into the slot. The phone immediately recognized it but requested that it reformat it. I hesitated for a moment (what was on that card?) but realized that it was nothing important.
What I had, though, was half a solution. The photos were all stored on internal phone memory, I could choose to store newly captured photos on the card, but I couldn't recall a way of asking the phone to move all the photos from one storage media to another – or was there?
A quick Google search reminded me that BlackBerry had a copy and paste function. It worked great for text, but could I use it for files like photos?
Short answer: yes.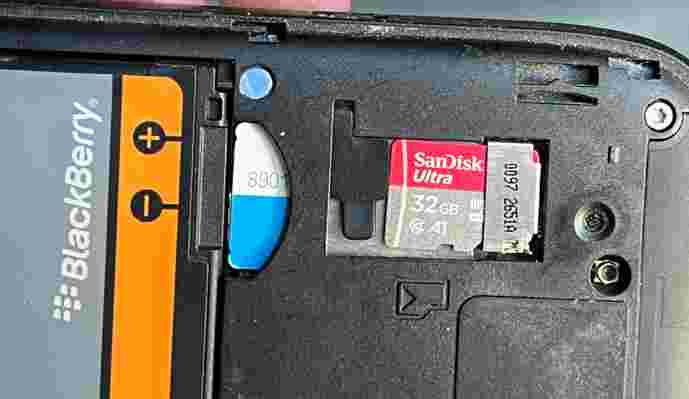 Step-by-step
I opened the Picture Gallery (under "Media"), then the folder full of 245 photos. Back when I was a BlackBerry master, I knew that the BlackBerry key, that little BlackBerry symbol icon between the phone and tiny trackpad, was like a treasure chest of functionality. Initially, I hadn't even considered using it but now I realized that it held every tool I need to make this transfer work.
I pressed the button and found the "Select" option. Next, I taped on a dozen photos. Then I carefully went back to the BlackBerry Button and selected copy. I then backed out and navigated to the SD card, which showed up as one of my image locations, and pasted the copied images into the card's storage.
I found that I could also select to move the images from the phone storage to the SD card.
Since there were so many images, I did them in batches until I'd gotten through all 175. There were supposed to be more, but I could not account for the BlackBerry miscount.
Once I made it through all the images, I removed the microSD card, put it in a USB card reader, and plugged it into my computer. All my photos were there.
Are all these images gold? No, though the one of Sascha Baron Cohen shooting The Great Dictator near my old office might be considered priceless.
In a way, I enjoyed the journey even more than all these old photos (except for the ones of my still-young children – those I cherish). It's just a reminder that what was lost can be found again if you stick to it.
As for the BlackBerry Torch? It's back in the drawer, jockeying for space with an old Audiovox feature phone.